A CITY CRAWLING WITH CONFUSION
Imagine a normal mid-western U.S. town, built at the base of a vast forest. Business thrived here, especially with the advent of several new industries. Heck, you couldn't find a more peaceful wilderness getaway than Raccoon City.
Then the trouble began. It all seemed to start when the corporation arrived.
Rumors began to spread, and the town was overcome with odd occurrences. Bizarre, unidentifiable creatures appeared out of nowhere. The fatal accidents mounted up at an alarming rate. Word got out about one severe accident at a mountain lab. Not one of the townspeople knew what was happening to their quaint, former serene hamlet.
In an effort to calm the growing fear among locals, the Raccoon City Police Department recruited several new officers. Leon S. Kennedy is one of the promising young recruits. As Leon prepares to join his new unit, he attempts to contact the captain who hired him, but has no luck reaching him. Unfazed, he continues into Raccoon City to his new job.
At the other side of town, a distraught Claire Redfield searches for her missing brother, Chris. Claire begins her search in Raccoon City, the last known location of her brother nearly two months ago, only to learn about the "accident" in the forest. Is Chris still in Raccoon City?
Sadly for Leon and Claire, they are completely unaware of the overwhelming world of horror and despair they are both about to enter...
- CHARACTERS -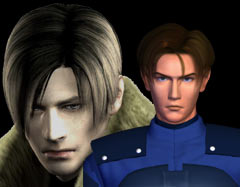 LEON S. KENNEDY
Leon is an idealistic rookie cop. He burns with the need to protect and serve, and life as a cadet was an eye-opening experience. While reckless and brash, Leon is certainly not as naive as his demeanor would suggest. He is highly qualified for his new job with the Raccoon City Police.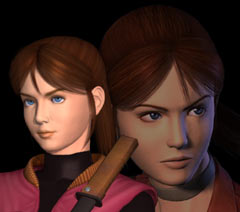 CLAIRE REDFIELD
Claire is a light-hearted, articulate, modern woman. While she can be a bit of a tomboy at times, she is somewhat wild. Self-confident and extroverted, Claire is typically the first person to try something others would not.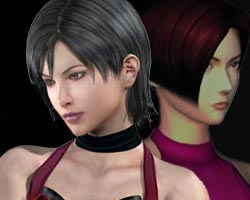 ADA WONG
Leon stumbles upon this mysterious woman who is quite secretive, yet at the same time a professional, skilled investigator. She can also come across as condescending, and has a tendency to talk down to those she deems inferior to herself.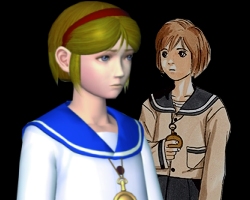 SHERRY BIRKIN
A lonely, insecure 12-year-old, Sherry is mature for her age. She is very shy and when she speaks, she lacks self-confidence and always has the feeling she is lost. Her parents are too wrapped up in their work to heed the emotional needs of their child.
RANKING
When you complete the mission, you are given a ranking based on how well you did. The rankings are S (superior), A, B, C and D. You are based on TOTAL TIME spent playing the game, and the NUMBER OF SAVES you used during your game play. The shorter the time spent and the less often you saved, the higher your ranking will be.
Try to increase your ranking, and who knows... good things may happen.