Sun 30 May 2010
First up. Do you want to be an extra in the filming of The Walking Dead's pilot episode? If you live in Atlanta, GA then I guess you better click
here
.
Next, the role of Dale has been cast. Filling the spot is Jeffrey DeMunn. Frank Darabont confirmed this in an interview with Fear.net
Jeffrey DeMunn as Dale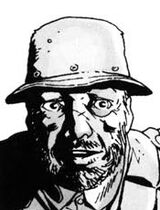 See you next time kids!!
==========================================
Thu 13 May 2010
Yeah, it's official. AMC has ordered a Pilot episode to be filmed followed shortly by a 6 episode first season.
Launched in 2003 the Walking Dead comic series held true to the famous zombie plot, survive in a world overrun by the... well, walking dead. Now it's 2010 and now it seems that the zombie genre has taken it's place at the top of the monster food-chain.
Frank Darabont, a veteran of so many great Stephen King movie adaptations, has taken the lead role as writer, director and executive producer.
Casting has continued into the production of the pilot. The role of Rick Grimes, the classic small town cop, the rumors that Jonny Lee Miller would be filling the slot have been unfounded, so we'll just have to wait.
No spoilers here but the short lived role of Shane, Rick's partner, has been given to Jon Bernthal.
The filming for this project begins in June of this year, if you can do math that would be... NEXT MONTH!!!!
Read a review of the pilot's script.
Robert Kirkman has been tasked to help produce this project, this seems fitting because he started this whole thing. Gotta thank him for that.
Stay tuned zombie freaks.
Wanna get your juices flowing? Check out this fan video of a scene from Issue #51.
The Walking Dead - Issue #51 Video.